Ganesha Chaturthi Recipes
Ganesha Chaturthi or Vinayak Chaturthi is celebrated with a lot of devotion and festivity in many Indian states. Various states like Maharashtra, Goa, Karnataka, Gujarat, and Andhra Pradesh celebrate the festival by preparing different Ganesha Chaturthi recipes. The famous Modak or Kozhukattai is amongst the favourite foods prepared for Lord Ganesha in Maharashtra. Modak can be prepared in different ways during the festival. Unlike modak, sundals are prepared in South India to please Lord Ganesha. Laddoo is another favourite sweet of Lord Ganesha.
In Maharashtra, laddoos and modak are made prepared for sure in every household. Modak can be of steamed type also called ukadiche modak, rava modak made up of suji or semolina, and fried modak.
Modak
This sweet has a filling of coconut and jaggery inside it. Modak is served in a vegetarian feast which consists of rice pooris, beans, panchamrit, steamed rice, varan bhaat, potato vegetable, banana sheera and kala vatana sambhar. Modak's filling resembles the famous Konkani sweet, patholi, prepared during the Gauri-Ganesha festival in Goa.
First the filling for modak is prepared by cooking the coconut and jaggery mixture till the jaggery melts. The exterior covering or the crust of modak is prepared from mixing rice flour with hot water and forming consistent dough. Smooth balls have to be prepared that are flattened first and coconut jaggery filling is then placed inside. Once the filling has been placed inside the flattened dough, the opening is closed by pressing together the edges. These modaks are then steamed and ready to be served.
For making fried modaks, outer covering is made from wheat flour instead of rice flour and the dough prepared is little thinner than that made for steamed modaks. The rava modak as the name suggests is made from semolina or suji and they don't require further steaming or frying.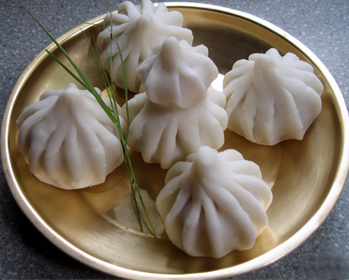 Coconut Laddoo
Desiccated coconut is used to make sweet and melt-in-the-mouth laddoos to offer to Lord Ganesha. They can be made using condensed milk. This is a quicker process.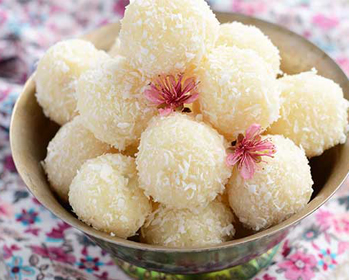 Besan Laddoo
Besan laddoos are specially prepared on the occasions of Diwali, Ganesha Chaturthi and Holi. They are made using gram flour, sugar and dry fruits. It is one of the most popular varieties of laddoo in India.
There are many other Maharashtrian Ganesh Chaturthi recipes to make dishes for offering to the Lord.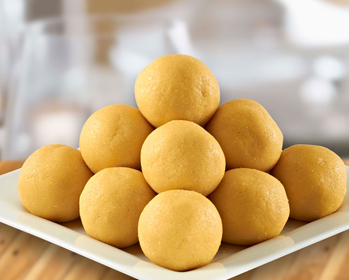 Puran Poli
To make puran poli, sweet lentil (skinned split chana dal or Bengal gram with jaggery) is stuffed between flat breads (wheat flour). This sweet filling is referred to as puran by Marathi people and the bread is called poli. Also, for flavour, dry ginger powder is added in the filling. Poli can be prepared using wheat flour as well as all-purpose flour.
Apart from Maharashtrian recipes, South Indians too have their own Ganesh Chaturthi recipes. They prepare sundals in Ganesha Chaturthi as well as during navratris. Sundal makes a good snack and can be easily prepared for the festival. Popular sundal recipes are black chana sundal, rajma sundal, green pea sundal and white chana sundal. Apart from these, sundal can be prepared from moong beans, peanut, chana dal, sweet corn and black eyed peas. Basically, a sundal is a dry preparation of lentil-legume. In this snack, whole spices are first sauted and the cooked legumes are then added to it. Fresh grated coconut is added before serving.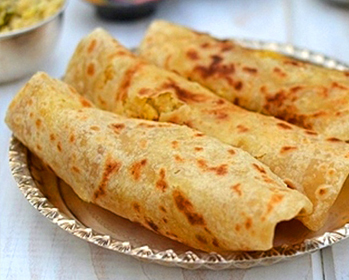 In Andhra, several mouth-watering Ganesh Chaturthi recipes are prepared on the special occasion. Dumplings of Pala Undrallu, rice flour in coconut, sesame sauce and milk, steamed salted balls of rice called Uppu Undrallu, long grain rice pudding called paramannam or chakkari Pongal are some of the most popular amongst them. Kheer or Semya Payasam, made from vermicelli is another favourite and frequent dish. Another dish called Pachi chengapappu vadalu is made using Bengal gram. Tangy and spicy Pulihora or Tamarind and sesame flavoured rice is made using sona masoori rice specifically on the occasion of Ganesha Chaturthi.
In general, South Indians celebrate Ganesha Chaturthi by making idli, lemon rice, drumsticks, rasam. Medu vada, sweet paniyaram, udipi sambhar and stir-fried beetroot.
All over India, Ganesha Chaturthi is celebrated with delight and great fun. For prosperity and good luck, families pray to Lord Ganesha and try to please him every year with these lip-smacking recipes.