Shree Ganesh Pujan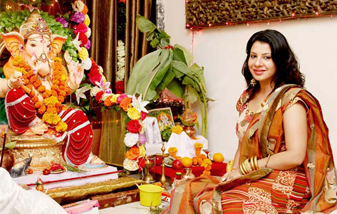 Lord Ganesha
is worshipped during almost all religious and secular ceremonies amongst Hindus.
Shree Ganesh Pujan
is especially considered as a compulsory ritual at the beginning of ventures like starting new business, entering a new home, buying a vehicle or even before examinations. There are hardly any Hindu homes, where
Ganpati pujan
is not held or a Ganesh idol is not seen. Lord Ganesh - the most popular deity in India grants prosperity, success, and protection against evils and adversity.
Facts about Shree Ganesh Pujan
The main mantra in Shree Ganesh pujan is Om Shri Gaṇeshāya Namah, where Om is the salutation to the Lord. Another mantra commonly associated with Ganesha pujan is Om Gan Ganapataye Namah.
During Ganesha Pujan, the main offering to Lord Ganesha is sweets such as small sweet balls (laddus) and modaks. In fact, most Ganesha idols include a bowl of sweets known as the modakapātra.
Ganesha pujan is incomplete without smearing him with red sandalwood paste or raktacandana and red flowers.
Durva grass, coconut, incense sticks and other materials are also needed for a complete Ganesha Pujan.
The puja of Lord Ganesha has become such a grand festivity in India and surrounding countries that month long festivals are associated with the deity like Ganesh Chaturthi or Vināyaka chaturthī on śuklapakṣa. In the month of Bhadrapada, sometime around August and September, Ganesh Jayanti or Ganesha's birthday is celebrated on the śuklapakṣa. Ganesh pujan is widely performed at homes besides being performed within enormous pandals. While performing Ganesha Puja at home, just be careful to perform it with a clean mind and a clean body. Devotion is more important than rituals; saying your prayers from the core of your heart will please Lord Ganesha more than just following specific ritualistic details.